National Health Holidays You Never Knew Existed
Nearly every family in the United States is affected by some type of health concern whether it is physical or mental, acute or chronic. Health care workers in a variety of fields care for individuals every day of the week and every hour of the day. They are tireless warriors who deserve a symbol of appreciation to show them how important they are and how vital their services are to the overall health of the nation. Instead of taking these professionals for granted, all are invited to recognize doctors, nurses, anesthetists, therapists and others on their special days with a card, a word of thanks or even a thoughtful gift.
INFOGRAPHIC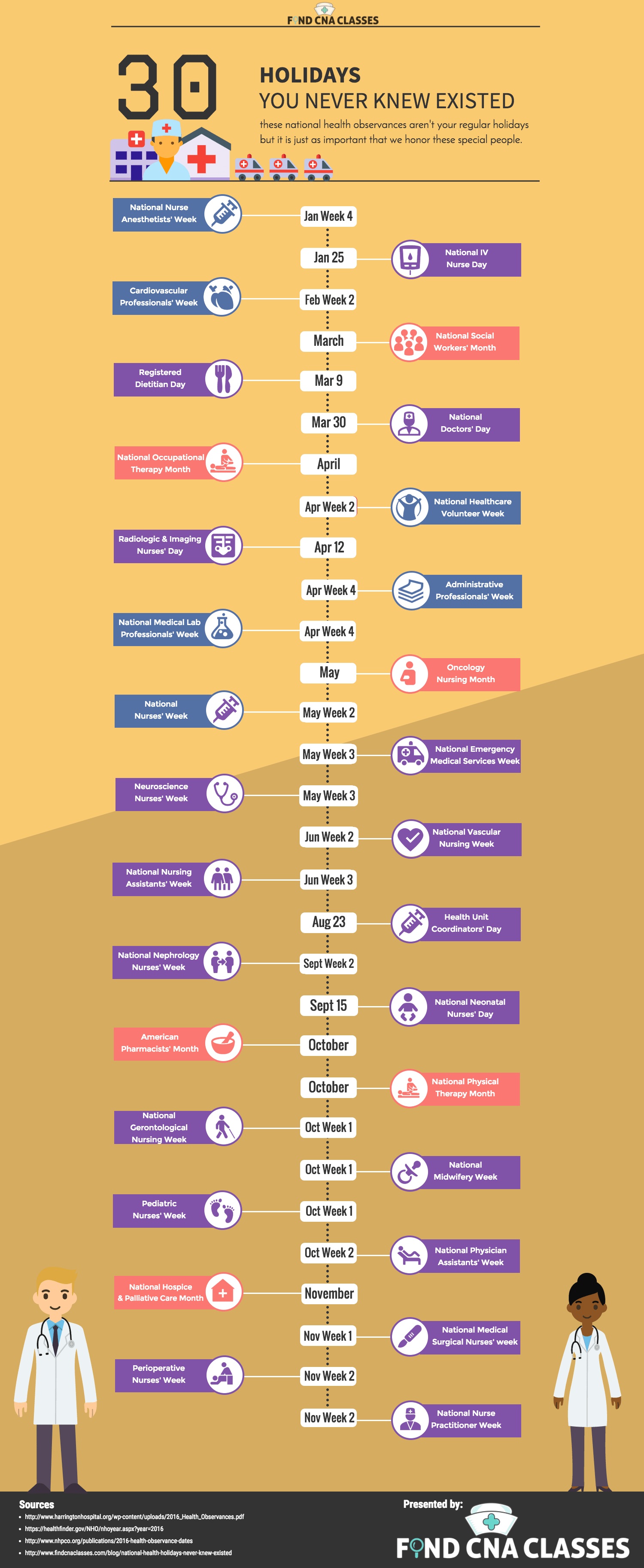 National Nurse Anesthetists' Week: January 24-30
Nurse anesthetists provide perioperative care and are often the ones who meet with patients prior to a surgery and who follow up with them after the procedure to ensure that they are recovering correctly from the anesthesia.
National IV Nurse Day: January 25
IV or infusion nurses work diligently in a variety of clinics and cancer centers to ensure that patients receive the medication that they need. They give medications and fluids through a variety of venous access points.
Cardiovascular Professionals' Week: February 14-20
Cardiovascular professionals include doctors, nurses, therapists and others who care for patients who suffer from diseases of the heart, such as congestive heart failure and arteriosclerosis.
National Social Workers' Month: March
Social workers are vital members of clinics and hospitals. They help patients solve difficult problems, such as where they will live or who will care for them.
Registered Dietitian Day: March 9
A registered dietitian helps patients of all ages learn how to build healthy diets and maintain healthy weights.
National Doctors' Day: March 30
Doctors in all fields, such as dermatology, cardiology, neurology and geriatrics, diagnose and treat diseases and provide preventative care to improve overall health and limit disease.
National Occupational Therapy Month: April
Occupational therapists help patients relearn how to do a variety of tasks of everyday living, such as getting dressed, working in the kitchen and bathing. They may help patients following strokes, car accidents or other untoward events.
National Healthcare Volunteer Week: April 10-16
While volunteers are generally unpaid helpers in a variety of medical fields, they provide a great deal of relief for doctors and nurses. They may help patients find their way to examinations or restock supply carts.
Radiologic and Imaging Nurses' Day: April 12
Radiology nurses help with x-rays, CT scans, MRIs and other imaging studies by taking and processing films and pictures.
Administrative Professionals' Week: April 24-30
Administrative professionals often work behind the scenes in health care centers. They do everything online and offline from making appointments and calling patients to processing records and doctor's orders for nurses.
National Medical Laboratory Professionals' Week: April 24-30
Laboratory professionals process a variety of specimens to determine blood chemical levels, bacteria types and more. They must work quickly to provide doctors with the results they need to treat patients.
Oncology Nursing Month: May
Oncology nurses are very special people who help patients deal with a host of emotions, who provide chemotherapy drugs and who often must deal with end-of-life care.
National Nurses' Week: May 6-12
All registered nurses and licensed practical nurses in all fields are honored during this week for the compassionate care that they provide. Nurses' Day is celebrated on May 6.
National Emergency Medical Services Week: May 15-21
Emergency medical personnel are at the front lines of treating patients whose lives are in jeopardy. They provide emergency medicine, give CPR, coordinate care and triage patients based on urgency level.
Neuroscience Nurses' Week: May 15-21
Neuroscience nurses work with diseases of the brain and nerves, such as head trauma, meningitis, epilepsy and Parkinson's disease.
National Vascular Nursing Week: June 7-12
Vascular nurses treat patients who are suffering from diseases of the arteries, veins and other blood vessels throughout the body, including those of the legs and neck. They may provide care for aneurysms or carotid artery disease in vascular care units or clinics.
National Nursing Assistants' Week: June 9-16
Nursing assistants are often known as the eyes and ears of the nurse. They provide direct bedside care in hospitals and nursing homes, such as by helping patients get dressed, eat meals or bathe themselves. June 9 is National Career Nursing Assistants' Day.
Health Unit Coordinators' Day: August 23
Unit coordinators often work in hospitals at the nurses' station. They process doctors' orders, answer visitors' questions, answer phones and schedule appointments.
National Nephrology Nurses' Week: September 11-17
Nephrology nurses provide care for the renal system, which includes the kidneys. In hospitals and clinics, this often consists of providing dialysis, which is a very precise treatment regimen.
National Neonatal Nurses' Day: September 15
Neonatal nurses care for newborns, most often in the hospital's neonatal ICU. They deal with infants who are born prematurely or who have birth defects or other problems that cause them to be very sick immediately after birth.
American Pharmacists' Month: October
Pharmacists dispense medications in hospitals and in retail formats. Not only do they follow the doctor's order but also they teach patients about the medication and about interactions and side effects of the therapy.
National Physical Therapy Month: October
Physical therapists help patients gain strength, coordination and mobility. This is particularly important after strokes or major accidents but can even be used after strains and sprains as well.
National Gerontological Nursing Week: October 2-8
These nurses care for the elderly and provide preventative care as well as care for many medical conditions that afflict the older adult, such as cancer, osteoporosis and arthritis.
National Midwifery Week: October 2-8
Midwives provide a more natural birth environment when compared to OB/GYNs. They provide prenatal and postnatal care and help in the birthing process in homes, hospitals or birthing centers.
Pediatric Nurses' Week: October 3-7
Pediatric nurses care for children from birth through the teenage years and have a special level of compassion and fun that attracts children to them. They may work in pediatric clinics, hospitals or even pediatric ICUs.
National Physician Assistants' Week: October 6-12
These professionals provide much of the same care that a doctor does but are limited in some areas, such as in prescribing narcotics. However, they provide preventative care in clinics and help with rounds or surgical interventions in hospitals.
National Hospice & Palliative Care Month: November
Home care nurses provide medicine and help with activities of daily living for patients who are recovering in their homes. Hospice nurses provide end-of-life care to patients suffering from terminal illnesses.
National Medical-Surgical Nurses' Week: November 1-7
Medical-surgical nurses work in all hospitals and provide care to patients who are suffering from acute or chronic illnesses or who are recovering from surgeries.

Perioperative Nurses' Week: November 6-12
Perioperative nurses provide high levels of care before and after surgeries. They ensure that patients are ready for surgery and help them recover using medications and diligent monitoring following the procedure.
National Nurse Practitioner Week: November 8-14
Nurse practitioners work in a variety of specialties and settings to prevent and treat acute and chronic diseases. They can prescribe many medications, provide yearly physicals and educate patients.
Share this Image On Your Site
Credit:
harringtonhospital.org
healthfinder.gov
nhpco.org
Facebook Comments