Advice for RN Program Applicants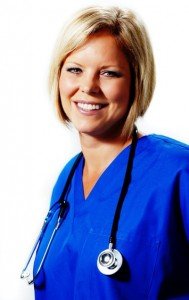 Anyone who is looking for a great career that promises a bright future should learn more about nursing. Demand for qualified health care professionals is expected to rise in the coming years, and these positions feature good pay and excellent job security. Of course, the first step toward becoming a nurse involves getting into a nursing program.
A flood of applicants competes for entrance into nursing programs every session. Not getting accepted may mean having to wait until the next session. Here are some tips on beating the odds to ensure that you get into the nursing program that's right for you.
It's important to make certain that your academic credentials are in order before you apply. Candidates must have a high school diploma or a GED before entering either an associate or baccalaureate degree program. Either type of program may require prerequisites. Students still in high school can hit the ground running by enrolling in subjects like biology, anatomy, and physiology, chemistry, and nutrition. Where nursing programs are especially competitive, it may be necessary to complete certain college-level science courses before being accepted into the nursing program itself. Occasionally, student performance in these courses will help determine whether or not they get admitted.
Grades are also an important consideration. Students who are in high school or are enrolled at the college and thinking of entering a nursing degree program can help to ensure their success by keeping their GPA high. An associate degree program may establish a minimum GPA between 2.0 and 2.75. Baccalaureate degree programs often require a minimum GPA of 3.0. However, the minimum GPA frequently isn't enough to ensure acceptance. It's best to strive for close to a 4.0. When a nursing program has too many candidates, it's common for them to rely on GPA to decide who gets accepted.
Sometimes, a history of volunteer work can help to tip an admission committee's decision. Of particular value is volunteer work at a hospital. Most hospitals are always looking for volunteers, many of whom will take on positions where they can interact with patients. These volunteer positions are important because they show that the applicant has witnessed the rigors of nursing firsthand and still wants to pursue the profession. If at all possible, nursing candidates should try to establish themselves for several months or years in a specific volunteer position while working with the same volunteer coordinator. This stability looks good on an application, and that coordinator can become a valuable reference.
Another factor that reflects positively on applicants is becoming a Certified Nursing Assistant or CNA. CNA training programs are offered at hospitals, long-term care facilities, and nursing homes. Frequently, there is no cost for completing the program, especially if the student will be working at the facility after completing their training. Being a CNA demonstrates dedication to nursing as well as an aptitude for the profession.
The application process may also be made more successful by visiting the campus. Many schools make it possible for prospective students to sit in on classes, talk to current students and instructors and even meet with admissions advisors. A campus visit helps the student to ensure that the school is the right one for them. Additionally, speaking with the admissions advisor can be particularly valuable. They can assess how large and competitive the field of candidates is and help prospective students make certain that they won't make mistakes on their application packet.
Some nursing schools are now requiring an essay as one more method for choosing which candidates will be accepted. A well-crafted essay may be the thing that tips the scale in favor of a particular student. Typically, students are asked to write an essay about why they want to pursue a career in nursing. It's always best to make this highly personalized, detailed and specific. Share thoughts on the nursing profession and how you hope to positively impact it. Moreover, it doesn't hurt to include why you choose to apply to this particular school. Is it because past students raved about their experiences? Maybe you've heard about the extraordinarily high placement rates for graduates from this program. Make certain that the admissions committee understands why their school is the right one for you.
Be thorough and accurate when filling out all application paperwork. Sometimes, a missing answer or check mark is enough to get a student's paperwork tossed. Fill out all forms carefully, checking and re-checking to ensure that they are accurate and complete. Have someone else looks them over too. Sometimes a fresh pair of eyes will see an error or inaccuracy.
Nursing program candidates may have to demonstrate persistence in the pursuit of their career. Many a talented nurse has not been accepted during their first admissions process. If this happens to you, don't hesitate to try again. With so many well-qualified candidates, you may have to use these tips to make your application stand out from the rest.
Comments